It is Time to Reclaim Indian History
Biggest contribution of S Patel, would have been AKHAND BHARAT today, that NONE ELSE could safeguard. But those who covered themselves in eternal SHAME are glorified sky high, telling us that Gandhi (mentality) still rules supreme while Bharat, is seen "begging before her Islam", unable to remove Article 370, build the Temple in Ayodhya, or take the frontier back from Wagah to Khyber, leave aside "sorting out" Kashmir by altering demography, or "taming" the Muslim minority . 
Rerence between the two integrations, one for real while the other still remains a mirage thanks to different handlers. Nehru demanded and got J&K for his exclusive management . 

Fortunately there was a time when Sardar Patel was free to act in integrating Hyderabad into India. Nehru went to London to attend some Common Wealth Gathering, an useless outfit, but a good excuse for him to meet friends, Gandhi who wanted to ' experiment with truth' in case of Hyderabad too just like he did with regards to 'granting of independence to India' through bloody route of partition, passed away in January 1948.

Patel was deputy Prime Minister, became acting Prime Minister in September 1948. Act he did. Made all the plans . Rajagopalachari was Gov General of India who took the place of  Viceroy Mountbatten who left India finally even after granting independence due to entreaties of his amigo Nehru while Jinnah became head of state of Pakistan.  M A Jinnah  died on September 11, 1948.  
  Well aware of plans of Patel , Gov Gen Rajaji requested that the planned 'police action' on Hyderabad be postponed as a good will gesture to Pakistan which was in mourning then.   Also Nizam sent series of questions to New Delhi much like what Pakistan has done later after attacking Mumbai in Nov 2008, but Patel was of different mettle  rather than silly putty malleable 2 G led administration in Delhi in 2008 which like a school boy answered faithfully all the queries Islamabad demanded.  So after burning midnight oil, when bureaucrats took the pages of the answers they drafted to questions of Nizam, for Patel's approval, the inimitable Sardar replied, "nothing can be done, our troops are already in Hyderabad" !
Thus Patel put a fullstop to Razakar led carnage in Hyderabad in just a matter of few days, less than a week, Sept 13 to Sep 18, 1948.  
As you know, alas this is still not the case with Kashmir, one impediment there is that article 370 which is said to 'temporary'.  As a result it is still a burning issue decades later much like Ravana's funeral pyre which is said to be burning still per  a colloquial legend. 
In contrast there was no ceasefire nor UN intervention in case of Hyderabad. 
Interestingly similar feat was performed in Junagadh earlier by the same team, Sardar Patel and his secretary V P Menon. Junagadh is where famous Somanath temple remained, then in 1947 in dilapidated state being used as a mosque . Like in Hyderabad, there was a Nawab who ruled over vast Hindu majority population. Z A Bhutto's father was its Diwan and ZA Bhutto who later became PM of Pakistan , remained Indian citizen till 1957. 
While we are on the subject of great service rendered to India by Sardar Patel, may be it is worth recalling the story of annexation of Junagadh,its history as well. 
During the period spanning the independence and partition of India and Pakistan in 1947, the 562 princely states that had existed outside British India under British suzerainty were given a choice of acceding to either India or Pakistan or remaining outside them. Although the states were theoretically free to choose, Earl Mountbatten stated that "geographic compulsions" meant that most of them would choose India. Mountbatten took the position that only states that shared a common border with Pakistan should choose to accede to it, but he had no power to impose this point of view on the states.
15 Aug 1947 Accedes to Pakistan.

15 Sep 1947 Accession to Pakistan accepted.

9 Nov 1947 Occupied by India.

10 Nov 1947 Rescinds accession to Pakistan, accedes to India

24 Feb 1948 Referendum approves accession to India.

25 Feb 1948 Accession to India in effect.
On September 15, 1947, Nawab Mohammad Mahabat Khanji III of Junagadh, a princely state located on the south-western end of Gujarat and having no common border with Pakistan, chose to accede to Pakistan ignoring Mountbatten's views, arguing that Junagadh could access Pakistan by sea. The rulers of two states that were subject to the suzerainty of Junagadh — Mangrol and Babariawad — reacted by declaring their independence from Junagadh and acceding to India. In response, the nawab of Junagadh militarily occupied the two states. Rulers of the other neighbouring states reacted angrily, sending troops to the Junagadh frontier, and appealed to the Government of India for assistance. A group of Junagadhi people, led by Samaldas Gandhi, formed a government-in-exile, the Aarzi Hukumat ("temporary government").[18]
India asserted that Junagadh was not contiguous to Pakistan and believed that if Junagadh was permitted to accede to Pakistan, communal tension already simmering in Gujarat would worsen, and refused to accept the Nawab's choice of accession. The government pointed out that the state was 96% Hindu, and called for a plebiscite to decide the question of accession. India cut off supplies of fuel and coal to Junagadh, severed air and postal links, sent troops to the frontier, and occupied the principalities of Mangrol and Babariawad that had acceded to India.[19]
Pakistan agreed to discuss a plebiscite, subject to the withdrawal of Indian troops, a condition India rejected. On 26 October, the Nawab and his family fled to Pakistan following clashes with Indian troops.
On 7 November, Junagadh's court, facing collapse, invited the Government of India to take over the State's administration. The Dewan of Junagadh, Sir Shah Nawaz Bhutto, the father of the more famous Zulfiqar Ali Bhutto, decided to invite the Government of India to intervene and wrote a letter to Mr. Buch, the Regional Commissioner of Saurashtra in the Government of India to this effect.[20]
The government of India rejected the protests of Pakistan and accepted the invitation of the Dewan to intervene.[21] A plebiscite was conducted in February 1948, but it was not internationally monitored and Pakistan claims was not based on the plebiscite but on the logic of Kashmir Annexation, which went almost unanimously in favour of accession to India.[22] Junagadh became a part of the Indian state of Saurashtra until 1 November 1956, when Saurashtra became part of Bombay state. In 1960, Bombay state was split into the linguistic states of Maharashtra and Gujarat, in which Junagadh was located.
Time periods of various rulers

[

edit

]
In this case also, determined, no-nonsense approach of Sardar Patel was well manifest. Mountbatten was viceroy , recommended plebiscite in Junagadh. It became convoluted. However annexation went through under strict and forceful demands , the nawab signed on dotted line. Some one then asked Patel as to what happened to plebiscite suggested by Mountbatten . Patel calmly replied, it went with him to London !
Let us also remember it was that Sardar Patel who was elected to become India's first Prime Minister , but democracy was not a strong point with Congress party  leaders then,later or even at present. 
Again thanks for forwarding the enclosed, yes it is time, high time in fact to reclaim our history. It is already happening despite deleterious so called secularism or composite culture, Hopefully it happens in full measure soon.
By the way one other action is worth recalling as well. One of first actions after independence of India besides integration of princely states into Indian Union, Patel along with K M Munshi took was rebuilding Somanath temple in Junagadh , at Prabhas Teerth. The mosque there was moved to some other place, and a magnificent temple got rebuilt.  All this was done not with a rupee from  Govt of India but through voluntary contributions of people of India. India's first President, Rajendra Prasad inaugurated it , spoke very memorable words, maybe we can recall some other time.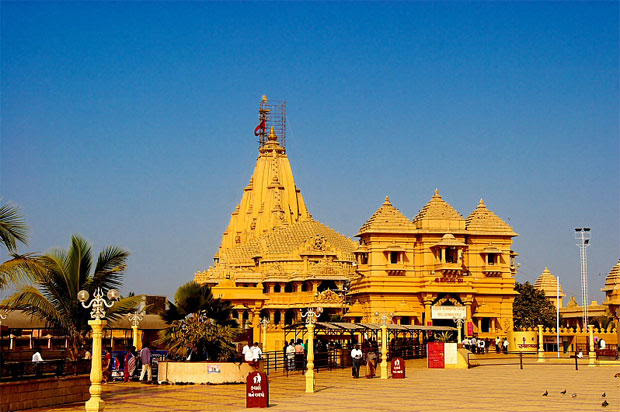 Somanath temple in Saurashtra, Gujarat, home of Jyotirlinga. 
Satyameva Jayathe,               Best wishes,                            G V Chelvapilla
————————————————————————————————–
———————————————————————————————————
It is Time to Reclaim Indian History

On October 31st, India bows its head in deference to the great Sardar Patel. One can only hope that the tallest statue in the world can serve as a permanent reminder to our citizenry about the importance of reclaiming Sardar's legacy.

Those interested may read the attached ebook "The Integration of Princely States" by Shri V. P. Menon

The Nizam of Hyderabad, with folded hands and a bent back, receiving a firm and tall Sardar Patel at the Begumpet airport.

V.P. Menon wrote his book "The story of the integration of the Indian States" in 1961, narrating the story of how modern India was crafted. The magnum opus of a retired civil servant, which spoke about the merger of 565 princely states into the Indian Union. Inexplicably, for many decades, it was difficult to find this book in bookstores across the country.

In no other nation would a stalwart be relegated to the past in this manner. One would imagine that a book that lauds an unmatchable hero like Sardar Patel and his superhuman effort to craft the map as it stands today would be read by every Indian. Instead, as India walked on the path of altering-history soon after the Independence, Menon's book became more and more difficult to find. This changed only in the last two decades, as electronic copies of the book surfaced and were widely circulated (See attachment).

There is no better time to review what Sardar Patel achieved for India than on his birth anniversary, creating a modern nation from Kashmir to Kanyakumari and from Junagadh to Assam. The unification of Hyderabad remains the most glorious of these hundreds of stories, which Sardar Patel helmed. 

The unification of Hyderabad with the Republic of India was so glorious; it continues to hurt the modern day political considerations.

Hyderabad state, ruled by the Nizam, preferred to stay independent. As India started taking shaping up, with princely states signing the Instrument of Accession, the Nizam instead appointed diplomats to European countries. Nizam tried to persuade the Portuguese to sell him the Goa region, then controlled by the Portuguese. This would have given naval access to the Nizam.

Hyderabad was not an insignificant state. With an area of over 82,000 square miles, it was home to more than 17 million Indians. An overwhelming 87% of them were Hindus, though the state was ruled by Nizam Osman Ali Khan, and seen as close to Pakistan. Sardar Patel knew Hyderabad was non-negotiable – it was the link between North and the South, between what was known as Hindustan and Deccan in the centuries gone by.

Nizam found support in Razakars– a ragtag 'army' of locals, owing allegiance to the Ittehad-ul-Muslimeen. This militia plundered the state as voices in the run-up to the unification with India started to rise. From 1946 to September 1948, when Hyderabad finally acceded, the Razakars continued to commit unthinkable atrocities in the Nizam's territory against an unhappy citizenry.

This is the militia that Sardar Patel destroyed as part of Operation Polo, which resulted in Hyderabad becoming an integral part of India. Between September 13 and September 17 in 1948, Indian Army fought with the 

Razakars

, a battle which culminated in the Nizam receiving a firm and tall Sardar Patel with folded hands and a bent back at the airport. Unfortunately, thousands, perhaps hundreds of thousands of people were killed in the ensuing battles, before Sardar Patel got his job done in Hyderabad.

V.P. Menon has described these events candidly and vividly. The modern-day Hyderabad, however, does not celebrate September 17 as the Telangana Liberation Day. There are two reasons.

·

        

Firstly, any such celebration would bring forth the glory of Sardar Patel, and match him in the official historical pantheon of exclusive heroes of Indian Independence – Gandhi and Nehru.

·

        

Secondly, the All India Ittehad-ul-Muslimeen (AIMIM) is now a political force to reckon with in Telangana, especially in Hyderabad. The party has controlled the Hyderabad Lok Sabha seat uninterrupted since 1984.

No government in Telangana or in the erstwhile Andhra Pradesh wants to upset either the Nehru-Gandhi clan or the Owaisis of the All India Ittehad-ul-Muslimeen. This is also true of the current Telangana Rashtra Samithi (TRS) government.

On October 31st, India bows its head in deference to the great Sardar Patel. As the nation unveils the Statue of Unity, one can only hope that the tallest statue in the world is not mere symbolism, but will serve as a permanent reminder to all Indians about the importance of reclaiming Sardar Patel's real legacy and of celebrating his courage, patriotism and heroism, especially in Hyderabad. 

Attached: Ebook by V. P. Menon
<V.P.Menon – Integration of Princely States.pdf>
—